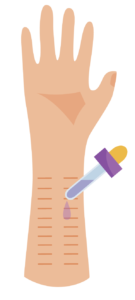 If you are suffering from allergies and need same-day treatments, our office may be able to help. New technology allows us to test inside our East 57th Street office with results in as little as 15 minutes. If you are suffering from watery eyes, itchy eyes, runny nose, sinusitis, cough, sinus congestion, sinus pain, shortness of breath, wheezing, chest congestion, bronchitis or other symptoms, schedule an appointment to come in and be evaluated in our offices.
We test for grasses, weeds, trees, molds, animals and food
There are a number of tests that can be performed when screening for allergies. Allergies typically occur when the human body reacts to substances that are sometimes harmless. When the immune system triggers an allergic reaction Dr. Ostrager looks for these symptoms.
Treatment options
With proper testing Dr. Ostrager will be able to advice patients on how to treat allergies. Treatment options are based on a number of factors including age, physical health and severity of symptoms.
We provide same-day treatment for those suffering from allergies.
Dr. Ostrager has devised her own allergy panel, uniquely picked pure allergen extracts, conducive to New York by working with top allergy experts at a reputable world renowned allergy company. Patients are tested for a multitude of various allergies, allergens to include grass, trees, weeds, molds, animals and food and much more. Put your trust in Dr. Ostrager, as she will take the time to determine the etiology of your annoying allergy symptoms as well as come up with individualized treatment plan to help alleviate your symptoms and feel better.